05 August 2020
Federico D'Annunzio wins Global Achievement Award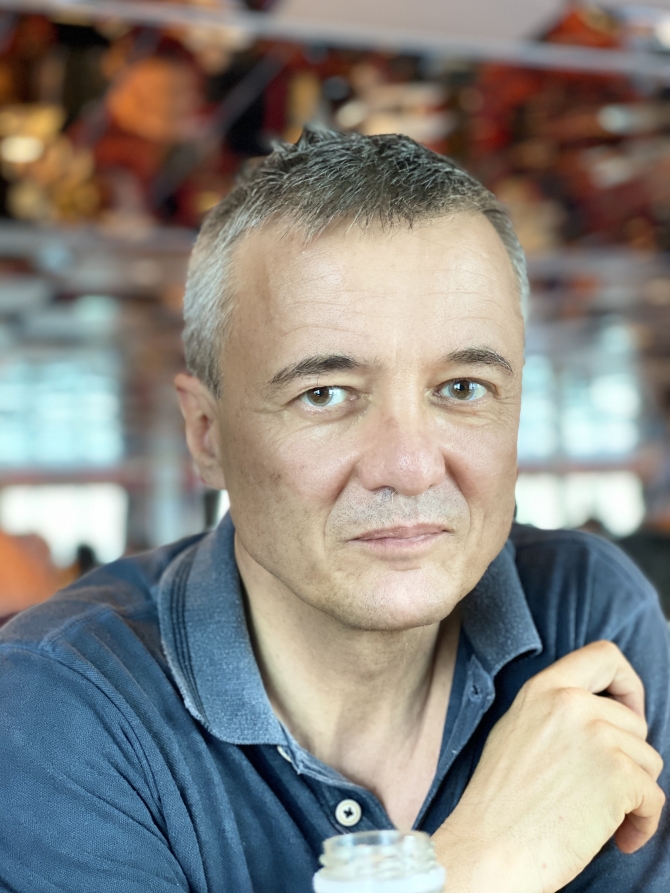 Click on image to download high resolution version
Federico D'Annunzio, BOBST Group, has been chosen as the recipient of the esteemed R. Stanton Avery Global Achievement Award 2020. This is one of five Label Industry Global Awards categories, judging for which took place in July. These annual awards are now in their 17th edition.
Sponsored by Avery Dennison, the R. Stanton Avery Global Achievement Award recognizes an innovation or idea that has helped transform and progress the label industry across the world. Bestowed in memory of Stan Avery's pioneering spirit and values, the award reflects the global nature of the industry and recognizes the collective contributions of the many as well as individuals.
D'Annunzio has been a passionate advocate of the digitization of the conventional label printing process. He joined the label industry at a time when two to three hours were required to change jobs and the operator was the master of quality. Today, with a combination of innovations which D'Annunzio has led, a complete job changeover takes around one minute. Quality control is fully digitalized with a closed-loop system monitoring pressure, register and color, all independent of the operator's skill set.
An active member of FINAT for several years, he helped focus the association on new ideas and attracting new members. He led the setting up of REVO, a team of leading industry players co-operating to promote and optimize extended color gamut printing in the flexo label industry, allowing spot colors to be printed using a fixed seven-color ink system without changing inks between jobs. He was also instrumental in establishing the UVFoodSafe group, where key industry players worked together to promote the best practice in the use of UV inks in indirect food contact labels and flexible packaging applications.
After the acquisition of Gidue, Federico took on a senior technology innovation role at BOBST.
Previous winners of the R. Stanton Avery Global Achievement Award include: Jim DeFife of Multi-Color Corporation, Alex Knott of Dow Chemical Company, Professor Tan of PEIAC, Tomas Rink of Ritrama, Helmut Schreiner of Schreiner Group, Suzanne Zaccone of GSI Technologies, and Neil McDonough of FlexCon.  
This year's international judging panel has also drawn up the shortlist for the other four awards, which are as follows (listed in alphabetical order):
The Award for Innovation (for companies with more than 300 employees):
Avery Dennison
HP Indigo
Lenze SE
Paper Machine Converting Company
The Award for Innovation (for companies with up to 300 employees):
GEW (EC) Limited
GMG Color
Tecnocut
The Rising Star Award sponsored by the Label Academy and Avery Dennison:  
Andrew M. Boyd
Elizabeth Yerecic
Jesse Freitas
Lindsey Muchka
Mr. Vineeth Bhandari
The Environmental & Sustainability Award:
Avery Dennison
Avery Dennison Brazil
Phoseon Technology
Mike Fairley, founder of the Label Academy and chair of the judges, said: "Once again, the judging panel was impressed by the high quality of entries to this year's Label Industry Global Awards, so drawing up the shortlist was no easy task. Nevertheless, we unanimously agreed that Federico D'Annunzio was the stand-out choice for the prestigious R. Stanton Avery Global Achievement Award, with endorsements from all corners of the world.
"What really stood out for us was the wide range of Federico's creative and innovative solutions that between them have had such an impact on the fast-changing world of label press design, productivity and performance.  We look forward to honoring him and all our winners in September."
Also on the judging panel for this year's awards were: James Quirk, group managing editor, Labels & Labeling; Chris Ellison, president, FINAT; Craig Moreland, past chairman, TLMI; Greg Hrinya, editor, Label & Narrow Web; and Jean Poncet, editor-in-chief, MP MEDIAS.
All winners will be celebrated in a special online announcement in September.
About Federico D'Annunzio:
Federico is a happily married father of 3 daughters. He grew up in a lively cultural environment, surrounded by beauty, books and pieces of art. He studied Law, before dedicating his life to innovation and technology. In his free time he enjoys reading, learning, and looking for change opportunities.

The Label Industry Global Awards were created to celebrate innovation and excellence within the label and print packaging sector. The Awards ceremony alternates each year between Labelexpo Europe (Brussels) and Labelexpo Americas (Chicago). This year, all winners will be honored in a special online awards announcement in September.
Follow the Label Industry Global Awards on Twitter at @LabelAwards. 
About Avery Dennison:
Avery Dennison (NYSE: AVY) is a global materials science company specializing in the design and manufacture of a wide variety of labeling and functional materials. The company's products, which are used in nearly every major industry, include pressure-sensitive materials for labels and graphic applications; tapes and other bonding solutions for industrial, medical, and retail applications; tags, labels and embellishments for apparel; and radio frequency identification (RFID) solutions serving retail apparel and other markets. Headquartered in Glendale, California, the company employs more than 30,000 employees in over 50 countries. Reported sales in 2019 were $7.1 billion. Learn more at www.averydennison.com.