15 September 2022
Global Label Award winners announced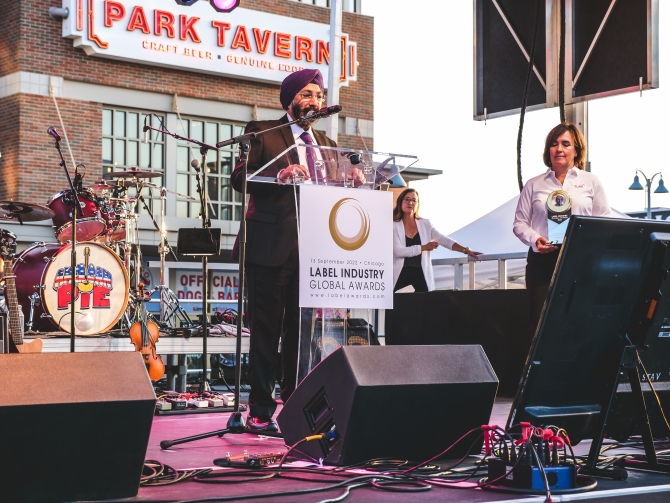 Click on image to download high resolution version
The results of the label industry's prestigious global awards were announced on the opening night of Labelexpo Americas 2022.
The winners were chosen by a judging panel consisting of Lori Campbell, chairman of TLMI, Linnea Keen, president of TLMI, Philippe Voet, president of FINAT, Greg Hrinya, editor of Label & Narrow Web, James Quirk, then group editor of Labels & Labeling, and Jean Poncet, editor-in-chief at Etiq+Pack. The chair of the judging panel was Andy Thomas-Emans, strategic director Tarsus Labels & Packaging Group.
As previously announced, the winner of the 2022 R. Stanton Avery Global Achievement Award is Harveer Sahni. The judging panel felt Harveer meets all the criteria for excellence demanded by the industry's most prestigious award for an individual's contribution to the growth and development of the global labels industry. His history in building a company to manufacture self-adhesive labels in India, through to his central role in building the Indian label association and then acting as an influential ambassador on the world stage, all helped the judging panel to come to their decision.
The Rising Star Award went to Stijn Billiet, Global Sustainability Director, MCC Label. Stijn joined MCC in 2020 and made an immediate impact bringing sustainability onto the agenda of the business. Early 2021 he presented a roadmap for all global production sites to reduce their carbon footprint, guiding the Belgian facility to carbon neutral production. Stijn represents MCC in its collaboration with organizations such as Holy Grail, RecyClass, APR, and CELAB. The judging panel felt Stijn has demonstrated clear potential to be a future leader and is already a strong voice within the labels industry.
The Environmental Sustainability Award was won by Flint Group Narrow Web for a new line of products designed to enable more sustainable packaging. The first product in the series, Evolution Deinking Primer, when used with Flint Group EkoCure XS inks, enables deinking of crystallisable shrink sleeves, allowing the clean sleeve label material to be recovered and recycled into PET packaging. The judging panel felt that the Evolution Deinking Primer makes a major contribution to developing a circular lifecycle for label materials.
The Innovation Award for companies with over 300 employees went to Actega for its Signite decoration technology. Utilizing the latest in UV-curable chemistry, Signite decorations are created entirely on press, eliminating the need for the laminated constructions used in traditional pressure-sensitive label production. Signite decorations are built in register with the graphics and label content, so there is no die cutting and no matrix to dispose of. Signite decorations are applied with a specialist inline applicator developed by Actega, initially for glass straight-walled containers. The judging panel felt this to be a step change in the way label decorations are produced and a major contribution to industry sustainability.
The Innovation Award for companies with under 300 employees was awarded to S-OneLP for its ReEarth compostable flexible packaging films.  ReEarth films have achieved ASTM D6400 commercial compostability standards and are both BPI and USDA Biopreferred certified. A compostable print film, adhesive, and sealant layer make up this laminated structure that can be surface printed with digital or flexographic technologies. The judging panel felt that with more label converters diversifying into flexible packaging products, a fully compostable solution is a great aid to future packaging industry sustainability.
The Rising Star award is sponsored by Avery Dennison; the Environmental Sustainability award is sponsored by Labels & Labeling; the Innovation Award for companies up to 300 employees is sponsored by Flint Group Narrow Web; and the Innovation Award for companies over 300 is sponsored by Xeikon.