07 June 2023
Malcolm Rae wins Global Achievement Award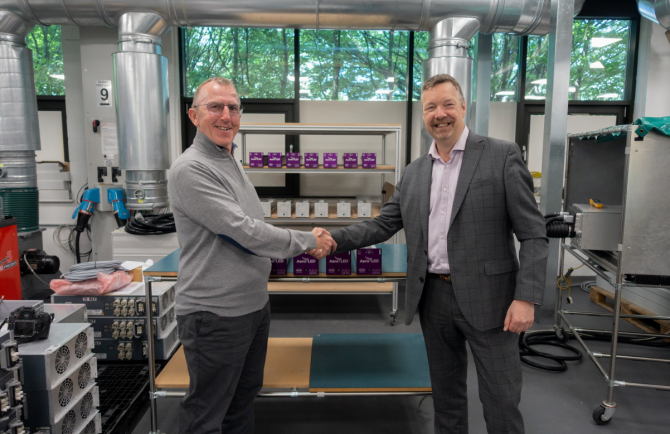 Click on image to download high resolution version
GEW founder announced winner of label industry's most prestigious award
Malcolm Rae has been announced the winner of this year's Global Achievement Award, which recognizes an individual who has made a key contribution to the promotion and growth of the label industry and has been a high-profile industry influencer and motivator. The Label Awards judging panel commented, 'Malcolm Rae is a worthy winner of the Global Achievement Award. This recognizes his unique contribution, through GEW, the company he founded, to the narrow web industry's transition to UV curing and to the subsequent technological development of the UV curing industry.'
Malcolm Rae founded GEW in March 1991, creating what was to become the largest supplier of UV curing equipment to the narrow web label industry worldwide.
Over a 35-year career, Rae helped enable the transformation of label printing from primarily water-based to majority UV ink by forging long-lasting preferred supplier relationships with almost every major printing machine provider in the narrow web industry.
Still family owned, GEW employs 150 people worldwide, at three UK manufacturing sites and two satellite offices, with sales, service and distribution serving over 60 countries.
A chartered mechanical engineer, Rae holds 21 international patents covering GEW's key products, including the ubiquitous E2C, which is installed on 30,000 label print stations globally.
His inventions helped pioneer the commercialization of many, now commonplace, UV technologies such as UV cassettes, electronic power supplies and exclusively air-cooled lamps. More recently Rae steered GEW towards a strong focus on UV-LED curing, making the lamps exchangeable with arc UV lamps to help converters make the transition to UV-LED technology.
Rae is renowned worldwide as an expert on UV curing, having presented, exhibited and lectured at label associations, shows and conferences over his 35 years in the business. Under his stewardship GEW has won a number of label industry awards and the Queen's Award for Export.
Rae is also held in high regard as a leader, role model and mentor to many people across GEW and the industry.
The judging panel consisted of Philippe Voet, president of FINAT, Tim McDonough, TLMI Chairman, Chelsea McDougall, editor of Labels & Labeling, Greg Hrinya, editor of Label & Narrow Web, and Jean Poncet, editor of Etiq & Pack. The judging panel was chaired by Andy Thomas-Emans, strategic director of the Tarsus Labels & Packaging Group.
The award will be presented at a gala awards evening on the first day of Labelexpo Europe 2023.