25 September 2019
Winners revealed at 16th Label Industry Global Awards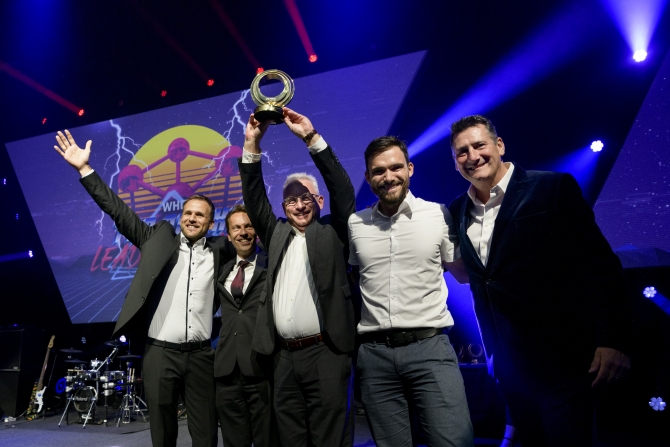 Click on image to download high resolution version
Avery Dennison, Esko, and GMG were among the category winners honored at this year's prestigious Label Industry Global Awards, which took place on 24 September at Brussels Expo, Belgium, the first night of Labelexpo Europe 2019.
Now in its 16th edition, the awards recognize the most innovative, influential and successful work from the label and package printing industry across the globe in the last twelve months. The 1980s retro themed ceremony brought together hundreds of guests featuring some of the biggest names from the international label community, and those working behind the scenes to constantly move this dynamic sector forward. It was the largest Label Industry Global Awards event yet as it also celebrated the 40th anniversary of Labelexpo. 

The Award for Innovation (for companies with up to 300 employees), sponsored by Flint Group Narrow Web, was presented to GMG GmbH & Co. KG, for its GMG Calibration Creation Wizard. Developed to enable customers to create color-accurate mock-ups for labels, flexible packaging and cartons, the judges were impressed with how the company had connected GMG Color Management software with an Epson SC-S80600 to achieve such accurate reproducible proofs.

The Award for Innovation (for companies with more than 300 employees), sponsored by  Xeikon, went to Esko for its Esko Print Control Wizard software,  developed to simplify the implementation of screens and dot gain curves in the reprographics process. Its main feature is the ability to control where the transition from AM to FM occurs. The judges were impressed by the way that transition points can be changed at the touch of a button, enabling the operator to see the immediate impact on tonal values.

Avery Dennison won the Environmental & Sustainability Award, sponsored by Labels & Labeling, for its Recycled PET Liners. The launch of the product in Europe has focused on meeting sustainability objectives and the need to support recycling in the packaging industry. The judges were impressed that the sustainable liners were made with 30 percent recycled PET post-consumer waste from PET bottles, while maintaining the technical qualifications the liner material needs for supply chain labeling success.

The Rising Star Award, sponsored by the Label Academy and Avery Dennison, went to Robert Rae of GEW. Robert joined the company in 2014 following an early career in research with P&G. With a top chemistry degree from Durham University, his skills have enabled him to make an immediate contribution towards developing a world class LED product introduced in 2016, and now in launching a revolutionary LED system at Labelexpo 2019. He has also been heavily involved with the UVFoodSafe Group.

The European Converter of the Year Award, sponsored by Grafisk Maskinfabrik, went to Reynders. Founded in 1956, Reynders today has label plants and Centers of Excellence in Belgium, France, Poland, Spain and India. The judges felt that its recent developments in digitally printed, full colour booklets were especially noteworthy, since after only 18 months, the company's investment in the production of 'loyalty stamps' has resulted in over six billion labels printed and supplied to all corners of the world.  Reynders also promotes sustainable label alternatives, with a planned installation of 800+ solar panels and investments to reduce water, gas and electricity consumption.  Its emphasis on career growth and after work activities for employees also impressed judges.

A Special Recognition Award, sponsored by ILS, was also made to Clive Smith, founder of Labelexpo, honoring his creation and ongoing development of the largest label and package printing exhibition in the world and a leading event for 40 years. He entered the exhibition industry in 1968 and started his  own company in 1974. In 1979, he launched the first labeling event in London, before the decision was taken in 1985 to move it to Brussels. Sister shows were launched in the USA in 1989, and in Singapore in 1991, creating a truly global brand. The company became the founding part of Tarsus Group in 1998, with Clive remaining as Chairman of the Labels Division to this day.  

The final award of the night, the R. Stanton Avery Global Achievement Award, sponsored by Avery Dennison, which was previously announced in June, went to Jim DeFife, VP Pressure-Sensitive Materials, Multi-Color Corporation. This award, sponsored by Avery Dennison, honors the contribution an influential individual has made which has really impacted the growth of the international label industry. DeFife has been a driving force in the global label industry for almost 40 years, with a focus throughout his career on the development of technical solutions that have revolutionized and grown the pressure-sensitive market – firstly with Avery Dennison and then, for the past 17 years, with Spear and Multi-Color. 

Mike Fairley, chair of the judges, said: "I, on behalf of the judging panel, would like to commend and congratulate all our finalists and winners at this year's Label Awards. What really made them stand out was the demonstration of genuine brilliance in their innovation, leadership and sustainability, and dedication to improving their businesses. They illustrate the very best of the label and package printing industry, so it is important that their efforts are recognized in moving our industry ever forwards.

"These awards are also unique in that they are the only awards of their kind that celebrate both innovative companies across the globe, and outstanding individuals in our industry. This year's awards are particularly special as we also mark 40 years of Labelexpo with the addition of two new categories, so I sincerely hope all our winners will go on to inspire the next generation of innovators and leaders as we look ahead to the next 40 years of Labelexpo." 

As part of the Labelexpo 40th anniversary celebration, the retro 1980s theme for the evening featured Tony Hadley, singer and former member of chart-topping band Spandau Ballet, who performed to a delighted crowd and acted as host for the night. Guests also had the opportunity to try out a replica DeLorean, and arcade games. 
 
Download image of Jim DeFife by clicking this link here.
Images from the awards are available on the awards gallery page.
 
The Label Industry Global Awards 2019 category finalists were as follows (Labelexpo Europe stand location indicated where applicable). All are listed in alphabetical order:

1. The Award for Innovation (for companies with up to 300 employees), sponsored by Flint Group Narrow Web:
GEW (EC) Limited (6C18)
GMG GmbH & Co. KG. (6A22)
Hybrid Software Inc. (8B24)
Lake Image Systems Ltd. (9B22)
Sÿnia/Wizzcom (3E77)
2. The Award for Innovation (for companies with more than 300 employees), sponsored by Xeikon:
Esko (3C60)
Lenze (3C66)
Lintec Europe (UK) Ltd (3A20)
Wink Stanzwerkzeuge GmbH & Co. KG (6C32) 
3. The Environmental & Sustainability Award, sponsored by Labels & Labeling:
Avery Dennison (5A31 & 5A27)
Sleever International 
Valmet (5E43)
4. The Rising Star Award, sponsored by the Label Academy and Avery Dennison:
Katie Davis – Bostik (6B20)
Jesses Freitas – StickerGiant 
Ahmed Lotfi Mansour - Bayan for Printing & Packaging 
Robert Rae – GEW (6C18)
Pawandeep Sahni - Weldon
5. European Converter of the Year Award, sponsored by Grafisk Maskinfabrik:
CS Labels  
Marzek Etiketten + Packaging GmbH 
Reynders
Stratus Packaging
The Label Industry Global Awards were created in 2004 to celebrate innovation and excellence within the label and package printing sector. The Awards ceremony alternates each year between Labelexpo Europe (Brussels) and Labelexpo Americas (Chicago). 
The R. Stanton Avery Achievement Award is bestowed in memory of Stan Avery's pioneering spirit and values. The award is a significant update to the previously named R. Stanton Avery Lifetime Achievement Award in order to better reflect the industry as it is today – one embracing innovation and tackling major environmental challenges such as label waste. 

The members of the judging panel for this year's awards were: Mike Fairley (chair), James Quirk, group managing editor, Labels & Labeling; Chris Ellison, president, FINAT; Craig Moreland, past chairman, TLMI; Steve Katz, editor, Label & Narrow Web; and Jean Poncet, editor-in-chief, MP MEDIAS.